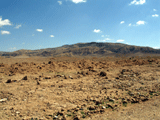 Looking back at Mt Nebo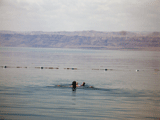 Everything floats high on
this salty water
As we dropped down off of Mt Nebo we lost altitude rapidly and as we traveled towards the Dead Sea our ears began to pop, the temperature rose, and finally we arrived at the lowest point on Earth (on land). Just two years ago Sis and I had been in Nepal and saw Mt. Everest, the highest point on Earth. Just like the world economy we have seen the highs and lows in just a few short years.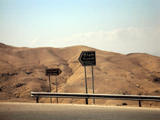 Next stop the Dead Sea 1,385 feet below sea level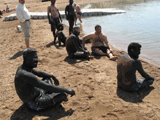 Beach goers paint themselves with black mud of the Dead Sea floor.