In many countries around the world hotels require that you put your plastic room key in a card holder on the wall which activates the electricity in the room. This is a method of saving money and electricity avoiding leaving the lights on when you aren't in the room. This isn't very handy if you only have one card key and one person wants to leave the room while the other person is resting, reading, or whatever. What we discovered is that you do NOT need to use the room key. You can actually use any card of about the same size and shape. Our library card now helps us keep the lights on all around the world. In this case I am using it in our hotel room in Giza across the street from the Great Pyramids.

The bazaar was fun and filled with all sorts of exotic items and we would hear the occasional tout, "It doesn't cost to look ... but I want to smell your money" … and then the bartering was on. Shopping in the bazaar is almost like a game. The object is to get the seller to come down 50% from his opening price.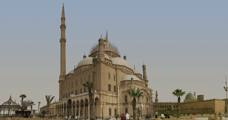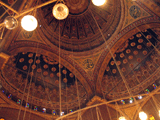 The Mosque of Mohammed Ali inside the walls of the Citadel
Once the capital of ancient Egypt now Memphis is rather ho-hum. It was very underwhelming. However, the nearby Step Pyramid of Djoser at Saqqara was really worth seeing and if you are already in the area you might as well see both.

Step Pyramid is older than those at Giza and the prototype for the Great Prymids.