Rothenburg ob der Tauber - http://www.rothenburg.de
History: 960 First settlements in the Tauber Valley
1142 The Imperial Castle is built by King Konrad III
1274 Rothenburg becomes a free Imperial city and independent state within the German Empire.
1400 Rothenburg becomes one of the biggest and most powerful cities within the German Empire.

Click on any photogragh to see an enlargment










Various gates in/out of Rothenburg ob der Tauber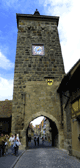 Various gates in/out of Rothenburg ob der Tauber




Fortified areas of Rothenburg ob der Tauber



Rothenburg ob der Tauber town center




Night Watchman tour
Gasthof Goldner Greifen – www.gasthof-greifen-rothenburg.de - This is the hotel where
we stayed. About 600 years ago Rothenburg's mayor lived here. It is located a half block from the town center.




Gasthof Goldner Greifen entrance
View from our room
Our room is the open window.
The Rothenburg ob der Tauber tourist information center assisted with finding and booking a hotel
to fit our wants without us having to walk all over town. It was great!
St. Jakobs Lutheran church in Rothenburg ob der Tauber






St. Jakobs Lutheran church was built from 1311 to1471.

The Criminal Museum in Rothenburg ob der Tauber

They used this dunk tank for bakers who sold underweight loafs of bread.

Executioner's blades


Executioner'srobe and blade

Head block and Axe


This shame mask was used for so-called "blabbermouth" women. The long ears meant they heard everything, the glasses meant they saw everything, and the long tongue meant they told everything as soon as it happened.
Rhine River




Rhine River - Standing in Germany with France on the other side.
Freiburg is the home town of our friend Dieter.






Crypt dating to 1330
Switzerland







It was amazing how quickly the landscape changed once we entered Switzerland. It abruptly became incredibly green and mountainous.




Lake Lucerne a.k.a. Vierwaldstättersee





Lucerne
France
| | |
| --- | --- |
| After many failed attempts to find a hotel for the night we finally found a truck stop along the autobahn where we spent the night. The restaurant was a simple cafeteria style. We were disappointed not to be spending the night in a more fun location and dinning in a more typical restaurant. However we were pleasantly surprised to find the food very good and we bought a bottle of wine for only 15€ that was perhaps the best wine of the trip. | "French Truck Stop Wine |
The castle of Haut-Kœnigsbourg
| | |
| --- | --- |
| | This door was kept open most of the daylight hours for common folk to come and go tending to farming, hunting, and other duties. An hour before sunset a bell was rung letting everyone know it was time to come inside before the door was locked for the night. Once the door was locked it would not be opened again until morning. If a person returned late they could still gain entrance to the castle through the keyhole door (the small door inside the larger door) for a fee. |















Mosel River Valley






Remarkable long barge-like boats navigate the Mosel River.

Burg Eltz - http://www.burg-eltz.de
Construction began between the 9th and 10th centuries but most of the construction was completed between the 11th and 13th centuries. The castle has remained in the same family for the last 800 years!











Den
Bed chambers
Dining area
Kitchen



Miscellaneous roadside views traveling from Belgium back into Holland.






Europe 2004
Traveling with Pieter in Holland | Traveling with Dieter and Liz in Germany
Traveling on Our Own in Büdingen, Germany | Traveling on Our Own in Europe
Pinnecker Family History in Büdingen | The City of Frogs
John Wall's home page | Genealogy
Last Revised: December 15, 2007
email John Wall