John Wall
Thailand (central and western)
We last visited central and western Thailand in the early to mid 1990s. Therefore, some of the following information might be out of date.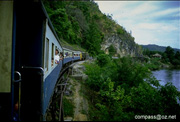 Click on the photograph to see a larger image.
Train from Kanchanaburi to Nam Took follows the River Kwai

Bangkok (Krung Teap)
Don't spend too much time in Bangkok, however, there are many large wats that are worth seeing and "The Grand Place" is a must.
Ancient capitals of Siam --
Ayutthaya can be reached as a day trip via boat out of Bangkok
Sukothai is an ancient capital of Siam and it's a MUST SEE WORLD SITE! If you visit this part of the world don't miss it.
Phitsanulok
Wat Phra Sri Ratana Mahathat home of Thailand's most beautiful Buddha
Good night market and home of the flying vegetables
Nakhon Pathom
The largest Buddhist chedi in the world
Damnoen Saduak
Floating market is great. Much better than the one in Bangkok.
Kanchanaburi
Home of the Bridge on the River Kwai and the town is located in a very beautiful setting
Erawan Waterfall
Take the train (round trip) from Kanchanaburi to Nam Tok. It runs along the River Kwai and it's one of the best day trips you'll make on your travels in Thailand.
BACK TO:
The Thailand main page