Cabo San Lucas
This was my first time to Cabo. It is a very easy destination for a quick winter get-a-way. A non-stop flight, almost everyone speaks English, really no need to convert your US dollars, shoot they even have a Wal-Mart and Home Depot. It also has friendly people, great seafood, beautiful scenery, and best of all nice warm sunshine! Ahhhh life is good.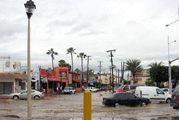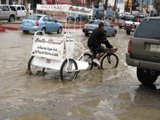 We only had one day with bad weather but boy howdy it rained pigs and chickens!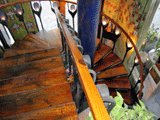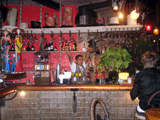 Wonderful food at O Mole Mio Restaurant. I could have eaten there every night.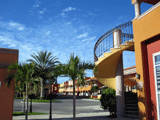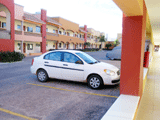 We stayed at the Quinta del Sol. It wasn't right on the beach but it was very clean, quite, comfortable, had great security, and it wasn't too far to the beach or downtown. It was a great location and at $60 an night a nice bargain. We also watched the Super Bowl in Spanish. :-)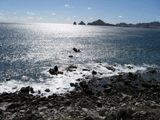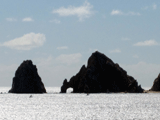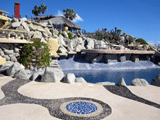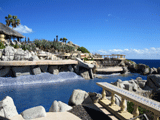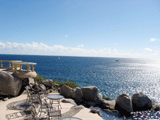 Just outside of Cabo are all sorts of fancy hotels and resorts. Some offering long distance views
of the Arch. They were nice but I felt very comfortable Quinta del Sol and saved a bundle of money.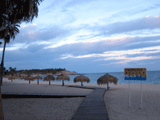 We went whale watching and walking underwater with Cabo Expeditions. Excellent! I recommend both. There wasn't a lot to see on the underwater walk but the experience is so unique that we were glad we did it.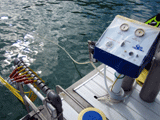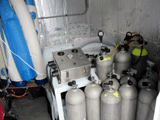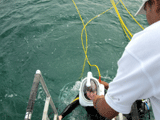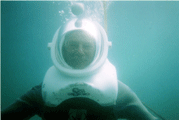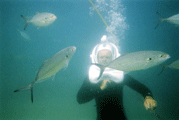 The whale watching was awesome! We ere SO CLOSE to the humpback whales that we could see their huge fins in the water almost under the rubber raft. I must have cleaned my glasses and camera lens a dozen times because the spray from spouting whales. It wasn't the heart-thumper as it was kayaking with these big guys in Alaska but very cool none the less.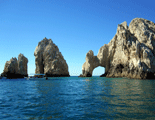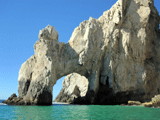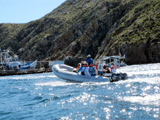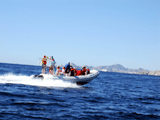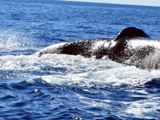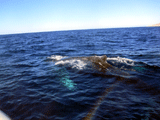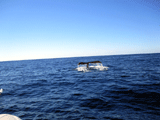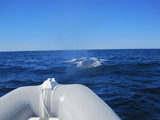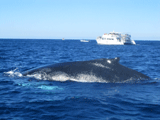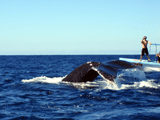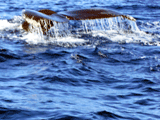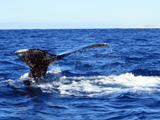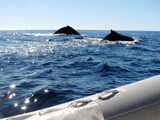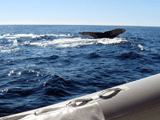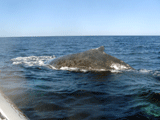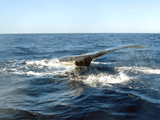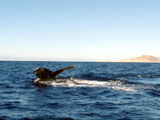 We swam with the dolphins. It was rather spendy but a lot of fun. Wow, they are fast!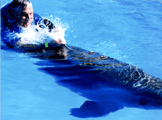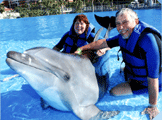 Los Barriles
Our first little road trip was to Los Barriles. We didn't find much to see and do and stayed for a couple of hours. The weather wasn't very good so that also played a factor. Later that day it rained like crazy in Cabo (photos above).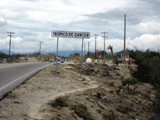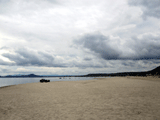 Todos Santos
It took about an hour to drive from Cabo to Todos Santos. This is a great little town and a pleasant drive. Along the way found a small dirt road that lead to a nearly deserted beach and and closer to Pescadero a pleasant resort beach area. In Todos Santos we found the Hotel California (of Eagles fame). Great food unusual décor and very unusual and descriptive restroom signs. The town also had a small day market next door to the hotel with all sorts of good values. Much of the same things found in Cabo but at half the price.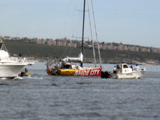 We got a glimpse of 16 year old, Abby Sunderland's boat
leaving the port as she attempts to become the youngest
person to make a nonstop sail around the world
alone and unassisted.
---