Chiang Rai | Chaing Mai | Krabi | Bangkok
Krabi
December 25, 2000 - 12:40 am
We flew into the new Krabi airport on Christmas Day. What a time saver the new airport is. It use to be a two hour or more taxi drive from the Phuket Airport. Now it's just 30 minutes to get to "the Dawn."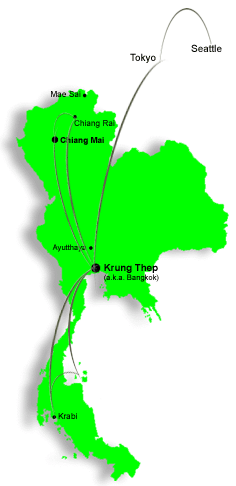 NOTE: The Thai people call their capital city Krung Thep. The ONLY people who call it Bangkok are foreigners ... Why do we insist on calling it Bangkok?


Entrance bridge into the "Dawn."
This was our 5th Christmas at the Dawn of Happiness. It is a great little resort located on beautiful Ao Nam Mao (Drunken Bay) off the normal tourist path. It's an eco-friendly resort that tries to bring the resort visitors closer to the Thai way of life.
Patti and Monica were off and running again while I maintained my slow pace laid back pace. Hey, I've been here several times, I've done all of the tours multiple times and as fun as they are I'd rather lay in the shade, read a book, and occasionally hop on the motorbike and go for a short ride.



Merry Christmas


AO Nam Mao




Restaurant at the Dawn